Events Management
We specialise in finding highly qualified venues and suppliers, making your event planning easier and more effective. Event planning in Milan: reach your goals and impress your target audience.
Contact Us
Emotions are the key to event planning
Event planning has a lot to do with marketing. This means that every event should reflect the values associated with the client's product, service or company. These values should also be embodied by the event venue. Therefore, besides offering our clients a wide range of creative services, we also maintain a wide portfolio of suppliers and venues that stand for quality, team spirit, professionalism, and efficiency. We have years of experience in meeting the ever-evolving needs of our clients with creativity and passion, we pay the utmost attention to detail to create unique and memorable experiences.
Smart eventi is an event planning agency with deep local knowledge and expertise: we can find expert partners and professionals in every field to support your events. We specialise in in-person events, but in recent years we have expanded to offer digital events as well. We have been able to rethink our whole organisational process in a short period of time, resulting in our specialised services to convert in-person gatherings into virtual events.
Corporate gala dinner
Our corporate dinner was everything we want in a business event: we received careful and thorough assistance in the venue and catering selection, every detail was researched with the utmost care, resulting in a perfect event.
Auxilia Finance
Team spirit and a cutting-edge team. This is how we plan your brand event.
Event management is a crucial aspect of corporate communication and brand promotion, as it allows direct contact between the company and its target audience. It is therefore essential to make the whole experience unique and memorable for all attendees as the event will be incorporated into the brand's perceived identity. Our agency will help you streamline the organisation of your event, allowing you to focus solely on the quality of the experience and your corporate communication.
An increasing number of companies have realised that sales are not the only goal worth pursuing and have learnt to value employee wellness. Therefore, many of our customers are interested in boosting their team's motivation by booking leisure and relaxation activities in line with their values. For them, we organise luxury incentive trips to breath-taking destinations, both in Italy and abroad, aimed at rewarding team effort within the company.
Kick off meeting for Techedge
For Techedge we organised a kick-off meeting in two stages, in Rome and Milan. From a range of multiple available venues, we chose a facility with a distinctly modern vibe, perfectly in line with the company's ideals and suitable for hosting the 500 expected attendees. We also took care of the evening's entertainment, playing with high-impact visual effects using robots, confetti cannons and laser lights.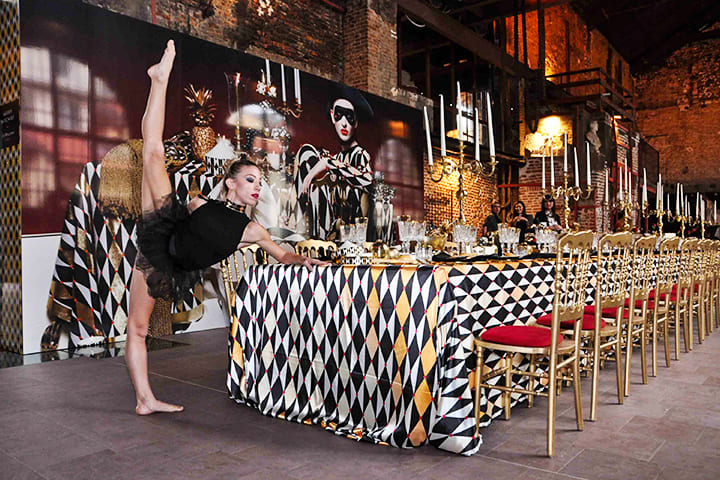 Jo Malone Christmas Event
We organised an imperial table lunch for 20 journalists, followed by a programme of artistic entertainment including an aerial dance show and an acrobatic dance show. The event was Christmas-themed with a circus twist, as it is traditional to take children to the circus for Christmas in London. Consequently, all the décor, furnishings and staff were aligned with the theme.
The event organisation agency that helps you make your mark
Smart Eventi is a corporate events agency and a marketing agency in Milan. Our team will support you in making promotional choices for your brand, helping you choose a modern, dynamic communication style that will help you make your mark. We aim to deliver outstanding service not only in the planning of corporate events that appeal to your attendees, but also in creating a more complex and articulated marketing strategy, turning your event into a powerful tool to create engagement and impress your target audience.
A few of our best events
The French multinational company Nexans entrusted us with organising their annual international conference at one of their facilities in Italy. We took care of everything: from communication to logistics, from catering for the welcome coffee to lunch, from technical direction to arranging the tour of the company building. Many small details handled to perfection contributed to the excellent result of our work.
For the Fuorisalone in Milan, we were in charge of organising two major events. The first one was the Mastella Design exhibition, for which we suggested a creative pop-up space in the city centre. We were also in charge of obtaining all the necessary permits for this event.
For Sohil, on the other hand, we took care of 'Palazzo delle meraviglie', which took place in one of Milan's most important 'museum homes' and was regarded as one of the must-see installations of that year's Milan Design Week.
We organised several events for TXT, a long-standing client of 8 years, but the biggest one so far was their last Christmas event, with 600 attendees. We chose a 12,000 sqm location and took care of the decor, entertainment with acrobatic shows, catering for the aperitif and the DJ set for the closing party, that the whole company attended.
Are you looking for an event planner to fulfill your expectations? Relax, Smart Events is the agency for you