Marketing Agency
We will review your insights, plan effective and creative integrated marketing strategies, and develop tailor-made promotional campaigns for brands and companies.
Contact Us
Test our services now! Smart Events will spice up your brand and boost your conversions!
Smart Eventi's team of professionals will design a marketing campaign tailored to your brand and help you plan your online and offline media strategy. We will make sure you reach your goals! Our communication and marketing agency will craft the perfect strategy for your business, using a mix of different communication channels.
We will convey your brand message through a strategic approach comprising a variety of marketing tools, such as contests, games, promotional tours and other actions designed around your needs. Our campaigns will boost your brand's narrative. Smart Eventi will take care of every detail of your campaign, from naming research to logo creation, video production campaigns, packaging and event organisation, sourcing the necessary materials and means of transport, selecting venues and platforms for virtual projects, creating installations and content.
Throughout the course of the campaign we will be your single point of contact, streamlining the management of the entire project. Our marketing strategy will grant your product targeted exposure, creating that special connection between you and your audience.
PROMOTIONAL FESTIVAL
A spectacular, 50s-themed festival, with local and national sponsors, drawing over 25.000 visitors over two days.
Pleasantville
Communication and marketing strategies for your brand
We will design and implement online and offline marketing activities, mindful of new trends and languages, and provide an answer to all your online needs.
We engage the target audience required by the client by attracting attention in unique and imaginative ways, suggesting unusual and entertaining themes, and deploying advanced guerrilla marketing techniques.
Our mission is to identify, visualise and communicate your company's strengths in a clear, simple and effective way. We put our expertise at our clients' service to redefine your whole brand experience. Your brand's narrative is paramount and we will make sure your business stays memorable.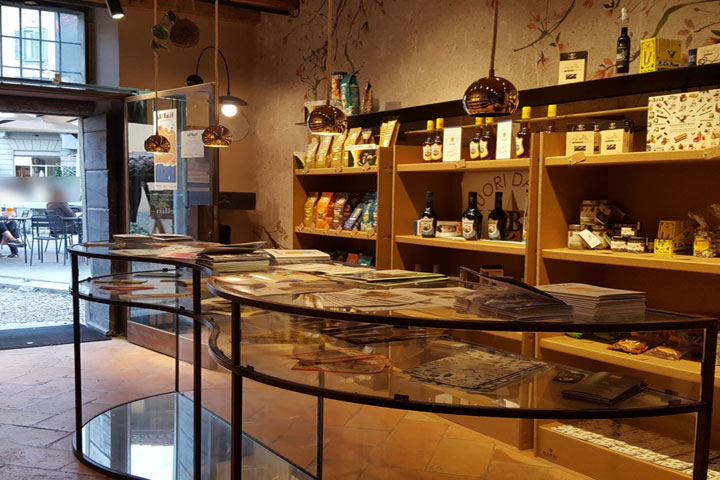 Pop Up Store for Promos
We created a pop-up shop for Promos Italia, as part of a territorial marketing campaign for the Abruzzo region. We were tasked with promoting both the territory and its food and wine specialities. We set up themed areas within the pop-up store to showcase local products and producers in an elegant and eco-friendly manner.
Street Marketing Aveda
We organised a drive-to-store campaign with dancers and gymnasts in one of Milan's most fashionable streets, which tripled the client's turnover in one day. Besides the performers, the street-marketing campaign included beautiful hostesses who distributed 'promo flowers' to passers-by.
Drive-to-store marketing campaigns with our Guru Marketing Unit
We take care of in-store customer engagement and lead generation, aiming to increase sales and customer loyalty. For your out-of-store marketing, we will handle traffic generation, emotional branding, digital event planning, and guerrilla marketing activities designed to inspire and attract new potential customers. For all these activities we assembled the GURU MARKETING team, a crew of dedicated professionals specialising in the implementation of advertising campaigns and promotional activities. Their flexible and dynamic approach allows them to adapt quickly to any new project, delivering stunning productions at competitive rates.
Did someone say PR?
We are also a public relations and marketing agency, aiming to create engagement with your target audience through effective messages that make a lasting impression and produce a higher ROI than traditional techniques. Our aim is to help you build and consolidate your brand image while controlling your budget.
If you are looking for a marketing agency to help you rebuild brand identity, Smart Eventi is the perfect match! We develop integrated communication plans following your goals through a strategic innovation approach.
Companies that have trusted us with their marketing campaigns
As a marketing agency in Milan, we have overseen the organisation of a number of promotional and qualified lead generation events. For instance, we planned a trade show and promotional event called 'Suppliers Day' for our client CBRE. On that occasion, we designed an exhibition area and a networking area for the 300 expected participants. The event's special guest was an Olympic rowing champion, an example of dedication and teamwork and an excellent testimonial for the whole event.
For Decathlon, we organised a press day to promote the sports brand's products and generate engagement. We invited industry journalists and bloggers and offered them dedicated sports areas, where they could try out machines and sports equipment. At the end of the event, each press representative received a customised brand gift for daily use.
Finally, we designed a guerrilla marketing campaign combined with an in-store promotion for MaxiZoo. Our promotion meant that the MaxiZoo shops involved, despite being located in industrial and sparsely populated areas, quadrupled their average turnover on the opening weekend overseen by us. Our special guests were showgirl Giorgia Palmas and her beloved puppy Polpetta.
Need a marketing campaign? We can help! Contact us