Communication Agency
We are a communication agency in Milan, offering creative and effective communication strategies to reach your audience and engage new targets.
Contact Us
Need a brand identity? We can help!
Do you need a powerful communication strategy for your brand or product? Smart Eventi is the creative agency you need in Milan. We specialise in creating advertising and marketing campaigns using advanced digital tools to convey complex messages in a fast, incisive, and straightforward way. We will engage your target audience and help you create and promote a consistent brand identity.
A winning digital marketing strategy!
Our team of experts works in synergy to provide you with creative ideas and state-of-the-art communication tools. We specialise in online and offline communication, taking care of every creative aspect of your campaign, from concept development to logo design, from naming to social media strategy, writing outstanding copy with hashtags specifically designed to boost your campaign, and providing event sponsorships. We will develop your web campaign through a thoroughly researched and optimised communication plan with unique and innovative ideas. Our communication strategies will improve your SEO and guarantee you strategic positioning within your target market.
Our communication agency also handles strategic marketing: we offer an accurate web analysis and positioning service, constantly monitoring client-approved marketing and communication kpis to maximise your company's ROI.
We offer customised user experiences and continuously innovate communication techniques. We also deploy video marketing strategies and create engaging events, both in-person and virtual, to reach your customers through exciting and memorable communication.
Press day for the launch of a new app
It was important for us to establish a moment to communicate all this and to engage with a variety of people! Thank you for your professionalism, commitment and creativity and for all the good work
Wher
Do you need an effective web communication strategy for your brand, product, or service?
In the Web 4.0 era, when digital and social communication has become the main source of information for consumers, companies need targeted communication strategies for digital channels that produce outstanding online content. We will devise the best communication plan for your company and bring you measurable results. We will implement paid digital promotion campaigns tailored to your needs, using tools such as Google Adwords, Facebook and Instagram Ads, monitoring campaign results through tools such as Google Analytics, always staying within your budget.
Bespoke communication experiences
In this context, we have developed our own specialised web design department. We produce innovative multimedia content with a contemporary design and develop applications to meet your communication goals. Our content is complemented by SEO campaigns aimed at optimising search engine positioning to reach your target audience directly and effectively. We also provide data analysis services that will help you in your business decisions.
Renewable energy tour in Italy ENERGIA INSIEME
We organised a streetmarketing tour that covered several towns in the province of Avellino, with the aim of financing the Casalbore Wind Farm. Our team designed and produced flyers, graphics, marquees, graphics for cargo bikes, and gadgets. We also took care of the logistics and the required permits.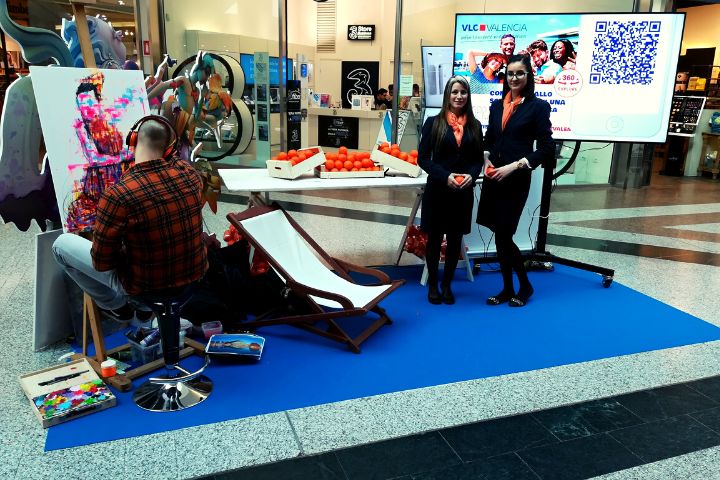 Touristic exposition of Valencia inside the malls
We created a promotional campaign for the Spanish agency "Valencia Tourism", aimed at increasing tourism in the city. We set up exhibition booths with strong references to Spanish traditions inside two major shopping malls in the cities of Milan and Naples, inviting people to a virtual tour of the city using our specially provided software.
The communication agency that will help you achieve your goals
We strive to create high-quality communication projects that achieve your approved kpi. Our advertising strategies will help you increase awareness and engagement at press days and international business events and achieve any other goals you may require for your campaign. In a world where packaging is the first point of tangible contact with the customer, design quality and correct brand positioning are crucial. Smart Eventi is the ideal advertising agency in Milan to create cutting-edge projects, always in line with current trends, effective in reaching your target audience. We stay ahead of new developments in markets and communication, to make our clients shine.
Winning connection strategies!
We develop bespoke communication projects, maximise our customers' online visibility with outstanding results, create graphics, produce content, design gadgets and packages that convey all the necessary information and channel your company's values. Our communication agency will help you create a connection between product and target audience, between online and offline markets, making conscious use of all the technological tools and resources available.
Among the many successful events, we organised there was a press day for La Mer, to promote the launch of a new face powder. We organised the whole event with digital marketing in mind and therefore made sure every part of it was highly instagrammable. We curated the decor to the branded catering, so that it would convey the brand's values while looking amazing on Instagram stories and on the live Facebook streaming we set up.-.
Another event we are particularly proud of is the promotional activation we organised for Valencia Tourism in two shopping malls in Nola (near Naples) and Carugate (near Milan). We paid particular attention to client engagement, creating summer-themed stands with a varied choice of entertainment options and immersive videos of city-tours. Our trained hostesses invited guests to try a virtual tour of Valencia. The whole event was shared on the brand's social media accounts.
For our client Mazzaroppi, we implemented a digital communication strategy aimed at brand promotion at a trade show, through a virtual platform. The aim was to obtain qualified leads among the trade show's attendees. We therefore created a virtual exhibition where customers could see the products on offer, read their data sheets and contact the company directly. All this during a live streamed event conducted after a meticulous investigation of the different time zones, allowing international audiences to be connected at the same time.
Looking for ways to create connections between your audience and your brand? Contact us, we'll take care of the strategy