Creative Agency
We develop creative concepts and designs, as well as events and promotional campaigns to engage your audience.
Contact Us
A multitasking and unconventional agency
Smart Eventi is first and foremost a creative agency committed to events and promotions, but it is also a Milan-based public relations agency, with a special focus on corporate communication. We guide our clients into the future of communication, and over the years we have implemented a series of parallel operations, with the ultimate aim of being the single point of contact for clients looking for highly complex promotion and marketing strategies.
A creative agency in Milan, specialising in unconventional marketing. Our event-planning creativity is our strength.


Store opening for Aveda
The event was a resounding success thanks to the amazing venue and set-up and to the excellent performers who attracted the public's attention
Aveda
Be analytic in order to get creative
A communication strategy is only successful if it starts with a creative idea, which is thoroughly researched and forms the foundation of the message you want to get across to your target audience. This is what Smart Eventi will do for you. We develop and execute communication projects, working as a team, following our creative drive and inspiration in their most unpredictable turns.
Our creative and communication agency includes a specialised department that focuses on creating successful campaigns. We will develop the entire communication campaign concept for you, adding value to your project.
Creativity: our strategy at your service
The events industry has trained us over the years to implement our creative ideas for our corporate clients. Our services as a creative agency in Milan include elaborating creative concepts for brands, devising out-of-the-box formats for events of all sizes, and setting up and staging impactful productions to engage attendees.
In recent years, our creative efforts have also evolved to encompass digital communication. To maintain the connection between brands and their customers, we have developed digital event solutions serving a variety of purposes. Using a customisable virtual event platform, our creative agency offers innovative and engaging communication in amazing virtual environments which you can navigate with your avatar.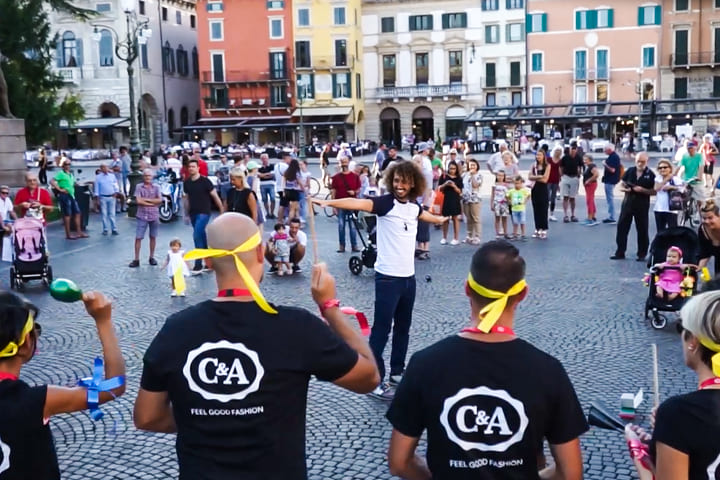 C&A Flashmob
For C&A, we devised a Flashmob linked to internal corporate strategies, which included the launch of a new corporate claim, a jingle and a high-impact communication campaign. C&A employees were the actual performers in this creative and unconventional activity!
Creative seeding for La Mer
A creative trick allowed for a press day for our customer La Mer despite the restrictions in place during lockdown months. We sent an elegant wicker basket containinga selection of products, treats and branded gadgets to industry professionals and bloggers, allowing them to try out the new La Mer products.
Emotional branding to engage your target audience
Last but not least is our emotional branding activity, i.e. a promotional activity aimed at creating a personal and emotional connection between the brand and the audience. We will support you in designing a customised communication plan, finding creative ways to engage your target audience on an emotional level. This is the only way to build long-lasting relationships and retain existing and potential customers.
If you're after a fresh take on your marketing plan, Smart Eventi is the right creative partner for you
If you are looking for a creative agency in Milan to provide articulate and complex marketing solutions for the promotion of your event or product, Smart Eventi is the best choice.
One such event was hosted by our client Tescoma, who asked us to organise a press day. On that occasion, we suggested holding the event in a suite in the central part of Milan. This venue allowed us to set up the space creatively, recreating the atmosphere of a morning picnic or barbecue among friends.
For Inglesina, a leading childcare products brand, we created a creative set-up inspired by the Amalfi Coast. For the presentation of their new line of pushchairs and prams we chose a prestigious location with an outdoor space, located in downtown Milan. The décor included plants and citrus fruits, designed to recreate the atmosphere and bright colours of the Amalfi Coast.
For our client Voyage Privè, we organised an extremely creative and original incentive trip: two memorable days on board a Venetian Galleon, with a pirate crew. As the Galleon sailed across the lagoon to dock in Venice, its passengers enjoyed a rich seafood-based dinner and danced to the music of a pirate DJ. On the second day, we organised a team building adventure: we took the whole team rafting on the stormy waters of the river Brenta.
Is your brand communication in need of a creative twist? Contact us Send message